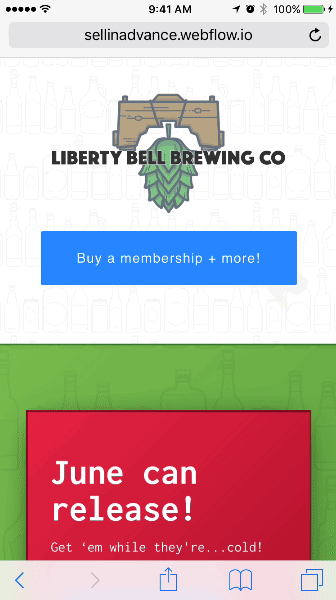 Things you can't do with Eventbrite
Eventbrite is a self-serving event marketplace that doesn't actually help your event get discovered. You also need to fit your unique setup into their rigid template. Port is an admission tool built to flex to your needs so you can customize it in a lot of ways.
Sell tickets from any website, and look good doing it
Use Port's buttons to embed a nice and simple buying experience into your website. Eventbrite's buttons and widgets redirect buyers to their website to complete payment, which has a negative impact on conversion. Maximize sales by selling at the point of interest.
Faster than fast checkouts
Buyers who visit your website from Safari for iOS, or visit a Port checkout page directly in Safari for macOS Sierra will now have the option to pay with Apple Pay right from the browser. It's a really fast way to collect payment, name, and email address all by the touch of a finger.
A more intuitive Attendee List
Port is more than just a buy button. Each product sold results in an access code. Checking people in with that code or by name lookup is quick and easy and can be done with any device. No app downloads necessary.
Finally - one single, affordable fee
On a $20 ticket, Eventbrite's cumulative fees are 121% higher than Port's fee
no additional fees whatsoever
And you can pass the fee to buyers, making Port completely FREE for you
We'll never email your customers
We have the best privacy policy in the industry. We'll never email your buyers, unlike Eventbrite who spams them with other events.